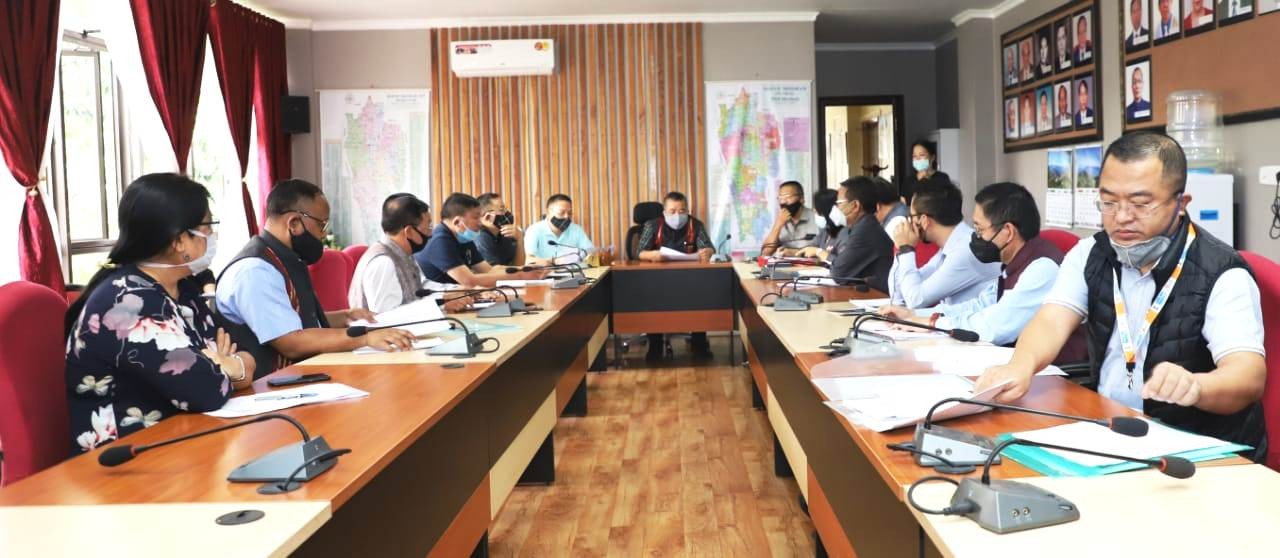 Vawiin ni 23/5/2020 Inrinni hian Externally Aided Project (EAP) hnuaia Mizoram Tourism Department leh Sports & Youth Services Department te tana Department of Economics Affairs, Govt of India leh Asian Development Bank(ADB)-in ruahmanna a siam dante thlirhovin CS Confrerence Room-ah Finance Deptt, Planning Deptt, Tourism Department leh Sports & Youth Services Deptt hotuten meeting pawimawh an nei.
He meeting hi Sports Minister Pu Robert Romawia Royte-in kaihruaiin Covid19 avanga Mizoram Budget hnuaia sum hmuh tur zat a chian tak loh avangin Mizoram Budget pawn lam atanga hmasawnna sum tam zawk hmuh a tul zual thu leh EAP chu Mizoram tana sum hnar pawimawh a nih thu a sawi a. Tourism leh Sports hmasawnna atana Mizoram Sorkar rawtnate a thuphunga pawm a ni chu Tourism Deptt leh Sports Department te tan thil thar anih thu a sawi. Minister chuan a thuphunga sum pawmpuina hi awm tawh mahse DPR pawm tlak hmang chauhva sanction tur a ni a, uluk taka ram rotling ngei siam tura DPR tha siam a tul thu a sawi.
He meeting-a tel ve Pu TC Pachhunga Vice Chairman, Youth Affairs, Sports & Tourism Board pawhin thusawiin EAP projects atanga hmasawnna ruhrel siam turte chu a tha ngei tur a ni a ti a, Chief Secretary Pu Lalnunmawia Chuaungo chuan Tourism hmasawnna atana ruahmanna siam tur chu liantham leh a thazawnga nghawng nei tham nise a ti.He meeting-ah hian ADB tenena karleha Video Conferencing hmanga Project kalpui dan tur thlirlawkna an nei bawk.
He meeting-ah hian Pu Vanlalchhuanga IA&AS, Finance Commissioner, Pi Esther Lalruatkimi IRS, Tourism Commissioner & Secretary, Pu H.Lalengmawia IAS,Secretary Sports & Youth Services te leh Official dangte an tel a ni.
—————